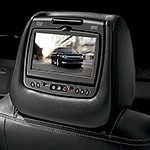 At Ed Shults Ford-Lincoln, our team understands that small time savings can add up to big benefits for busy drivers. That's where the Ford Flex shines; this popular three-row midsize SUV is packed with smart technology that helps you save time every day.
Have you ever passed up a parking spot in Jamestown? The Flex's available Active Park Assist takes away the guesswork from parking. It finds a spot with enough space and then steers you smoothly into place. All you have to do is follow the directions on the screen for accelerating, shifting, and braking.
When you're in traffic that's constantly changing speeds, the Flex's available adaptive cruise control is a big help. It automatically decreases your speed to adjust to traffic, and then brings you back up to cruising as soon as it's safe. That way, you only need to engage it once. To try it, pop in to see us and test-drive the Flex.